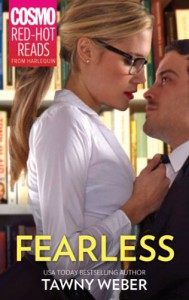 *** ARC provided by Harlequin via NetGalley ***
Gia has found her next fling. And she determined to hook up with him without him knowing since he works for the same company), and she is going to do this usingg the Girlz Guide. A book of rules for women writtenn by some of her close friends. Luke Monroe was looking for more more than a fling, but less than a commitment, when he hooks up with the best of both in a Vegas hotel room.
Fearless was a fun and sexy read. I loved the story. The idea that Girls can go after guys with only minimal amounts of shame. I have to say I also really enjoyed the guide rules at the beginning of every chapter. It gave me something to laugh about and look forward to.
This was fast, but fun, and sweet looking forward to reading more from this author soon!