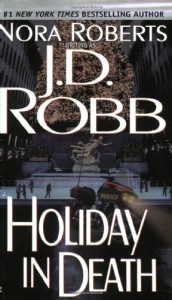 I have to say that this series though it sometimes seems like I will never catch up, I love every moment I get to spend with this cast. I love that Nora Roberts is able to write such complex and evolving characters, and that she is not afraid to take on the hard topics out there. In facts it feels like in the future they are still just as horrified by certain types of crimes that are being committed by the various criminals. This book does not start off very well, its clear that Eve's job really is forcing her to confront the demons of her past.
I have to say that it was so great to see Roarke try to get Eve into the Christmas Spirit, cause she's Eve and that was not ever going to be easy. But I also loved that she was trying so hard to celebrate for him. I think this particular case was very close to Eve, and while she tried to play it off in the beginning, it was very hard by the middle of the book for her to not see herself in some of the other characters in this story. This is not by any stretch of the imagination a typical Christmas story. But still there were some really beautiful and sweet moments in here as well.
I also want to say that I'm really liking that we are getting to knoe Peabody more, and that she and Eve have settled into a really great relationship. That being said, I must say that I'm super excited to see peabosy start a love life of her own, cause I can't wait to know how that develops, cause she's a a wildcat that one.
Overall another great book for the series, and it really is perfect for the holidays, reminds us all why they are so important, and why we should cherish our loved ones a bit more at this time of year.